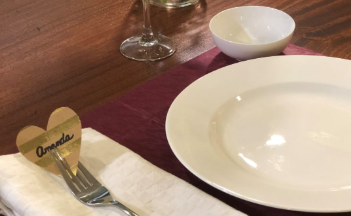 If you're hosting a dinner party this fall (Thanksgiving is around the corner), take your party to the next level with our adorable Custom Place Cards! All you need is a few items from your local arts and crafts store! They are simple to put together, and add a nice touch to any dinner table.
Craft Paper
Scissors
Sharpie
Directions:
Grab a few sheets of your craft paper. I think this works best when you use different colors or prints for each name so everyone has something different! Decide on what shapes you want each place card to be – circle, star, flower, etc. You can trace one before cutting, or just go ahead and cut the shape of choice. Once cut, take your sharpie and print the person's name on the front of the paper. That's it – now you can place your card through the fork of each place setting!
We filmed this video in one of the beautiful model kitchens atSpogue Kitchens and Bath in Wayne, PA. Visit their website for more information.