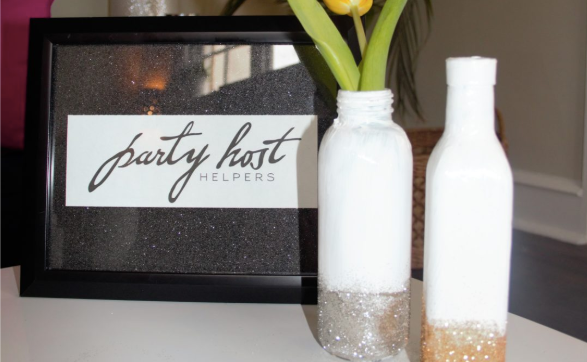 If you're hosting a big party, small gathering with friends or just hanging at home by yourself, these glitter bottle vases are the perfect decor piece for any space! They're super easy to make and add a touch of shine to brighten up your home! Use a wine bottle (make sure to drink the wine first) or any bottle of choice, and get painting! These are also a great activity to do with your girlfriends on a Friday night, or to give as a gift! Simply add a few spring flowers, and voila!
What you need:
1 glass bottle (we purchased ours from A.C. Moore for $1!)
Glitter
Glue
White Acrylic Paint
2 Paint Brushes (one for paint, one for glue)
Directions:
1. Take a paint brush, and paint the glass bottle with the white acrylic paint all the way to the top. Wait until the paint dries, and apply a second coat to cover any spots you missed.
2. Once the second coat of paint is completely dry, take your other brush, and paint a thin coat of the glue to the bottom few inches of the bottle. If you want more glitter than what we did, paint the glue up higher!
3. Take your glitter and begin sprinkling over the area coated with glue. Make sure to do this over newspaper for easy cleanup.
4. Let bottle dry, add a few of your favorite flowers & enjoy!
forget to check out our YouTube channel!