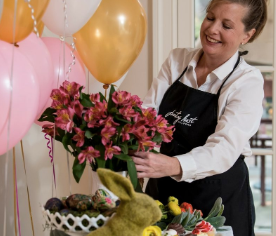 Easter is around the corner, and if you're hosting the celebration this year, you are probably busy planning the menu, decor and more! Party Host Helpers is here to help! We have some great ideas that will ensure you and your guests have a wonderful holiday! Our Party Host Helpers Dallas Regional Director, Elle, shared her favorite recipes and tips that will take your Easter gathering to the next level!
Easy and Elegant Ham
This is the perfect recipe if you don't have a ton of time to spend in the kitchen and are expecting a lot of guests! It's simple to prepare, and very tender! You can find the recipe here.
Sriracha and Wasabi Deviled Eggs
You can't have Easter without eggs of some form! I love this recipe because it's a bit different from your average deviled eggs – it packs a spicy punch! You can find the recipe here.
Bacon Asparagus Crescents
This is one of my favorite dishes to serve on Easter! These rolls are simple, and so delicious – it's always best to make extra just in case. They are the perfect mix of bacon, buttery bread and asparagus, what's not to love? Find the recipe here.
Lemon Upside Down Cake
I am a huge fan of the classic pineapple upside down cake, and the lemon adds a fresh twist! It's easy to prepare, and very delicious – perfect for your gathering! Find the recipe here.
---
Serve Everything Buffet-Style
This is a great way to allow flow at your party, and keeps it casual whether you're having a sit-down dinner or not. You can set up a table for either the main course or dessert (or both). Guests can bring a side if they want, and everyone can take at their discretion.
Make it Kid-friendly
It's always a fun idea to have something for the kids to do while the adults mingle. Have a fun craft ready to go when everyone arrives such as cookie decorating, which is also perfect for dessert! All you need is cookie dough, sprinkles and some colorful icing. You can make everything from scratch ahead of time or purchase from your local grocery store. Throw down some newspaper in the kitchen, and let the kids go to town!
Decorations
Whether you want to keep everything simple or go crazy, Easter is the perfect occasion to add some décor! We love getting some colorful flowers from your local Whole Foods, and putting them in a mason jar with a pretty bow.You can also get crafty and paint some hard-boiled eggs, and place in a big bowl as a table centerpiece! The options are endless, and it will add a great touch to your party.
Hire Help
Don't stress this year and let Party Host Helpers assist you! Let us set up your buffet, clean up the kitchen, take out the trash or serve the cocktails! Our goal is to take care of the details so you spend less time in the kitchen, and more time with your guests!
Don't wait to book one of our Party Host Helpers for your Easter celebration, so you can enjoy your guests this year!