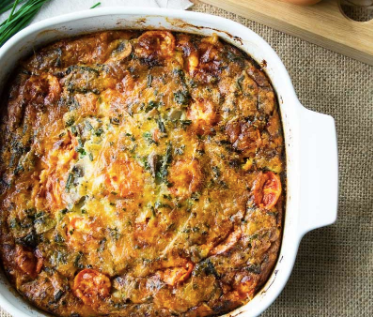 Baked English Breakfast Casserole

This is a simple breakfast casserole that can be prepped night before or morning of your party or gathering! It has all delicious ingredients, and is a great addition to any breakfast or buffet table!



Ingredients:

9

medium

eggs

1/4

cup

sour cream

1/2

cup

whole milk

1

small bunch

chives

– finely chopped (roughly 2 tablespoons)

3

medium-sized (5.5 ounces)

pork sausages

5

slices (5.5 ounces)

bacon

– chopped into 1-cm pieces

8

ounces

chestnut mushrooms

2

handfuls

grated cheddar cheese

10

cherry tomatoes

– sliced in half

Directions:

Remove the sausages from the casings if you purchased links. In a medium skillet on medium-high heat, add in a tablespoon of oil and cook the sausages, breaking them with a spatula as they cook. Add in the bacon pieces and cook together, stirring frequently so the bacon doesn't burn, until both are cooked through. Remove the cooked sausage and bacon from the pan and set aside in a bowl with paper towel to catch the extra grease.
Add the mushrooms to the pan, and cook, stirring frequently until the mushrooms have released their liquid. Remove the mushrooms, draining the liquid.
In a large bowl, beat the eggs. Add in the sour cream and milk. Add in the bacon, sausage, mushrooms and chives. If you are preparing the casserole the night before, cover the bowl and set it in the refrigerator to sit overnight.
When you are ready to bake the casserole, preheat oven to 375°F / 195°C. Liberally oil an 8 x 8-in baking pan and pour everything into the pan.
Place the sliced cherry tomatoes, face up in an even space across surface. Add cheese on top.
Bake for 50-60 minutes until the casserole is firm in the center and the cheese has browned.
Cut and serve!