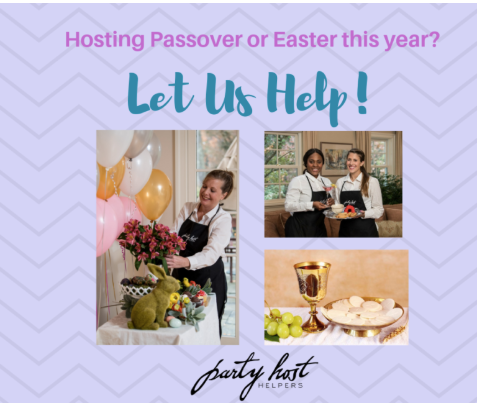 Easter is on April 21st this year and the time to start planning is NOW! For those of you who celebrate Passover, it starts on April 19th so if you're hosting, you should start planning too. We know you're busy planning sedar, and your Easter menu so Party Host Helpers is here to help! We have some amazing event ideas (and event staff for hire) to make sure you and your family have a fantastic holiday, no matter what you celebrate! We have some tips and tricks (as well as delicious recipes) to make your Easter or Passover absolutely fabulous!
Recipes:
Elegant Easter Ham
This is the perfect recipe if you don't have a ton of time to spend in the kitchen and are expecting a lot of guests! It's simple to prepare, and very tender! You can find the recipe here. We recommend to estimate about 3/4 pound per person for a bone-in ham and 1/2 pound per person for boneless.
Easter Carrot Cake
At Easter, you typically have all the chocolate you can eat (not a problem in our book.) However, spice it up this year by serving something even the non-chocoholics will love. Carrot Cake! Not only does carrot cake have the best frosting, but it is on theme. Check out this tasty recipe.
Traditional PASSOVER Matzah ball soup
If Passover is known for one thing menu-wise, it is the matzah. We just can't get enough of this Matzah Ball Soup recipe, so give it a try. Just like Bubbie makes!
Fabulous Flourless Chocolate Torte
At Passover, we know there will never be a dish served that is "leavened" or includes wheat, barley, spelt, rye or oats. You may be thinking that making a tasty dessert for this holiday is difficult but no worries, Party Host Helpers has you covered. This fabulous chocolate tortenot only meets the criteria, but tastes yummy too.
Exciting Easter Decor
Since Easter occurs at such a beautiful time of year (Spring!) it makes sense to utilize the stunning tulips that are in full bloom. Not only are they beautiful pinks and yellows but they offer another way to get crafty during Easter- the vase. We love this glitter vase idea crafted by Party Host Helpers Ceo, Renee Patrone. It looks amazing and it's simple to make, no matter what your skill level. Check out the link here.
Perfect Passover Place Cards
When hosting a dinner party, it helps to map out setting arrangements in advance. What cuter way to tell guests where to set than these edible matzah place cards?!
For the Kids:
Easter Egg Hunt
Is Easter ever complete without an egg hunt? If you have children attending your party (and sometimes for adults too!) an Easter egg hunt is great fun. We all know how this works but you can spice it up by hiding small games and folded up coloring pages for the kids to occupy themselves with after the meal!
Afikoman Search
The Afikoman is a half-piece of matzah which is broken in two during the beginning of the Passover Seder and set aside to be eaten as a dessert after the meal. After Sedar, it is hidden for the children to find. A new spin on this would be to create a scavenger hunt that leads to the afikoman and to present the kids with a fake newspaper about the search such as this one
Additional Party Tips:
Serve Everything Buffet-Style
This is a great way to allow flow at your party, and keeps it casual whether you're having a sit-down dinner or not. You can set up a table for either the main course or dessert (or both). Guests can bring a side if they want, and everyone can take at their discretion. Place the drinks on a separate table to help guide the flow of the event and during dinner, put out a few bottles of wine and pitches on water.
Hire Party Host Helpers
Don't stress this year and let Party Host Helpers assist you! Let us set up your buffet, clean up the kitchen, take out the trash and serve the cocktails! Our goal is to allow you, the host, to spend time with your family this holiday and not in the kitchen or cleaning. We are revolutionizing the art of entertaining. Contact us TODAY.