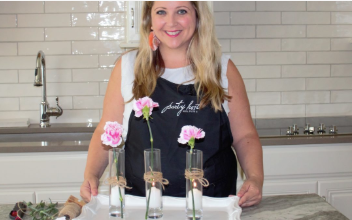 These flower votives are the perfect addition to your summer party decor! All you need is a few items to easily throw together these pretty little things. They're perfect for your next bash, no matter the occasion! Use them as your table centerpiece or just for extra lighting.
What you need:
Flowers (we chose carnations, but Gebera Daisies are also a great choice)
Tall Glass Votives (we purchased from A.C. Moore)
Votive Candles
Twine
Scissors
Lighter
Platter or small dish (optional)
Directions:
Take one of your flowers and size next to one of your glass votives. Cut the stem so the flower comes above the votive a few inches. We chose to add variation in height to ours, but you can cut the flowers at any height you want!
Take your twine and cut a long enough piece so it will wrap around the votive a few times. Place your flower in position so the bottom of the stem is touching the counter top. Wrap the twine around the stem of the flower towards the center part of the votive 3 to 4 times and then tie into place.
Place your candle in the glass votive and light!
For added decor, we placed three on a platter and used as our centerpiece. This is optional.
We filmed this video in one of the beautiful model kitchens at Paoli Walk in Paoli, PA. Visit their website for more information on the gorgeous homes for sale.