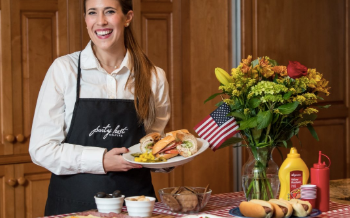 July 4th is around the corner, and that means it's time to start planning your patriotic bash! Party Host Helpers has you covered with some great ideas to make sure your party is full of fireworks this year! Our Washington, D.C. Regional Director, Kendall shared her favorite patriotic tips, recipes and more!
"Washington, DC celebrates America's Birthday with a bang. There's nothing like being on the National Mall for the Fourth of July! Along with viewing the amazing fireworks show on the National Mall, attending the free concert, A Capital Fourth, is thrilling!"
4th of July in DC is HOT! That means cold drinks and good food are a must! Planning 4th of July parties are not only patriotic, but lots of fun! We can never get enough of our Red, White & Blue!
Whether you are planning a backyard party, packing up to watch the fireworks on a rooftop or sharing a blanket on the lawn, cold beverages cannot be left behind! Here are a few suggestions I love as we celebrate America's big day!
I love infusing water with fruit. What better way to make your water festive on the 4th than to add fresh strawberries and blueberries to a mason jar full of water and pack them on ice. Yum!! Better yet, freeze the strawberries or raspberries and blueberries in an ice tray for chilled fruit to add to sparking water! Cold, refreshing and delicious.

Once you've settled in to enjoy friends, family and fireworks, whip up a Blue Crush Margarita! This one is great because it is a fun patriotic blue! Here is a great recipe.

July in DC can be super hot, which is why I love anything frozen! Check out this recipefor frozen sangria for that extra patriotic chill!
Another delicious option is this Sparkling Red, White and Blue Sangria. This recipe is fun, delicious, easy to make, and guaranteed to be the hit of your patriotic party! Here is a great recipe.
Surprise your guests with something other than the usual hot dog and whip up some delicious pulled pork! It's melt in your mouth and always a party hit! Here is a great recipe.
A great side to pulled pork, or really any grilled meal, is coleslaw! It's delicious and easy to prepare ahead of time. Here is a great recipe.
Dessert is a necessity on a holiday like July 4th. Don't stress in the kitchen and whip up a simple grilled peach sundae! The grill is most likely already fired up, so I love to buy some peaches from my local produce store (so delicious this time of year), cut them in half, and throw them on the grill! Grab a couple gallons of your favorite ice-cream flavors, add some toppings to some bowls, and create a dessert buffet for your guests! Here is a great recipe.

Don't forget to hire Party Host Helpers! We want you, the host, to enjoy your party this summer! We can provide you with servers, bartenders and general party staff to take care of all your party needs. We can help with everything from the setup and clean up to refreshing drinks and serving, so you can sit back and enjoy the fireworks this year!
Hire us for your July 4th party!