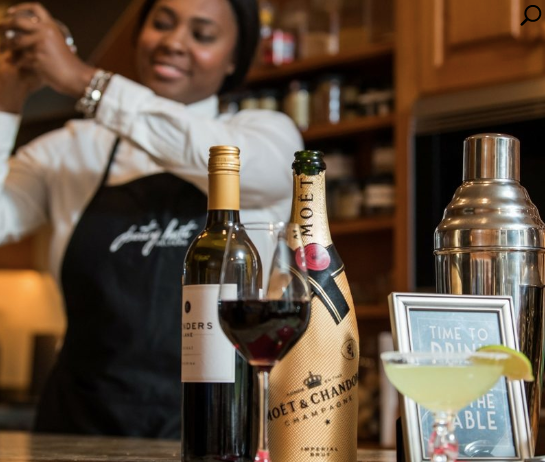 2018 is right around the corner, and we're looking forward to another year of exciting parties! Hosting a New Year's Eve party this year? Let Party Host Helpers help so you get to enjoy your guests, and watch the ball drop after a stress-free evening! We can do everything from the setup, clean up and serving, to mixing some fabulous cocktails that will impress your guests!
One of our Los Angeles Party Host Helpers, Robinton, shared
a few of his favorite cocktail recipes and bartending tips he is putting to use at holiday parties this season!
"There is nothing quite like a great party. Something I enjoy about Party Host Helpers is being a part of such a wide variety of events and helping make sure that each night is a hit for the host."
Tips from a Party Host Helpers Bartender!
1. Bartending is one service area where guests are likely to engage with you. Don't be afraid to strike up a conversation and get to know them. One of the best parts of an event or party, is the great people attending!
2. Remember people's orders. Guests feel special when they return to you and you already know what they'd like.
3. If someone asks for a drink you don't know – ask them to teach it to you. Especially at casual parties, this is a great way to ingratiate yourself to the guests.
4. Smile and have fun! I find if you're enjoying yourself, the guests will too.
Baileys Hot Chocolate
This is a great dessert cocktail for cold winter evenings. Easy to make and delicious! Baileys is great in an after-dinner coffee as well!
Mix together 1-part Baileys Irish Creme & 3 Parts Hot Chocolate
Dash of whipped creme (if desired)
Dash chocolate sprinkles (if desired)
Cranberry Mule
Mules are all the rage these days. This is really a dark & stormy with a part of the ginger beer swapped out for cranberry juice. Gives a nice holiday feel to a popular drink!
2 oz. unsweetened cranberry juice
3 oz ginger beer
1.5 oz spiced rum
1 oz simple syrup.
Mix and pour over ice in a copper mug
---
Old Fashioned
An Old Fashioned is a classic drink that not many people make at home anymore. I find it's a nice way to spice up an intimate holiday event to give whisky drinkers something a little more festive without going too far out of their wheelhouse.
1 sugar cube
2-3 dashes bitters (Angostura is traditional),
2 oz bourbon or rye whisky.
Garnish with orange
Let Party Host Helpers shake up your New Year's this year!