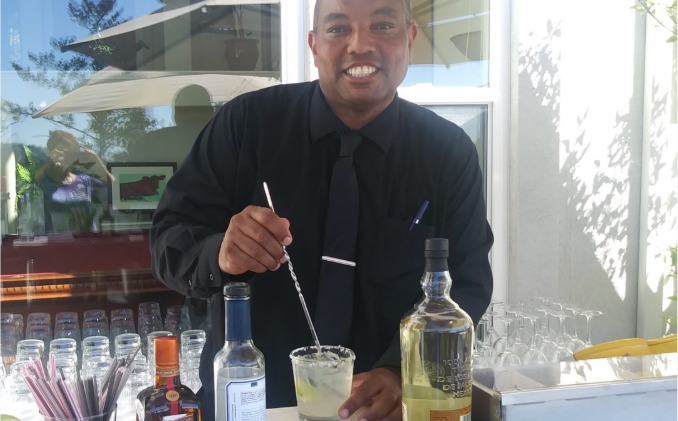 If you're hosting a party this spring, you understand how stressful it can be to plan everything and then make sure it runs smoothly! Our goal at Party Host Helpers is to allow you, the host, to enjoy your event! Whether you're hosting a gathering in your home or at an outside venue, we provide friendly & professional party staff for any type of function big or small!
One of our San Francisco Party Host Helpers, Cary, recently assisted with a pre-event for the San Francisco Hot Chocolate Half Marathon! He helped hand out Opal Apples to the participants, which allowed the client to mingle with other vendors and guests.
"I love working as a San Francisco Party Host Helper! I am able to use my love of people, love of good service and attention to detail. It is a good fit for my personality."
"This was one of my favorite events I recently did! I, along with another Party Host Helpers team member Kora, arrived early Friday morning to the Convention Center downtown. We immediately started to set up the booth equipment that was shipped in from the client. We had talked to the client ahead of the event, so we knew exactly what needed to be done before we arrived. We set up the signs, posters, table cloth and product! Since I had a bit of time before the event began and the doors opened, I took some a few minutes to meet the other vendors – the feeling of excitement for the participants to start coming through was in the air!"
"We set up all the equipment, dressed in bright yellow colors to match the Opal Apples, and put on our happy faces. We greeted the hundreds of people as they arrived, described the amazing apples and how they didn't brown for hours upon being cut open. We met a lot of wonderful people! Everyone loved the apples, and we had an easy time sharing the product with the attendees."
"I really love meeting new people and talking with them. This was one of my favorite events because it kept us busy smiling and helping the guests of the event – we barely noticed the time go by!"
"We spent all of Friday giving out hundreds of apples and returned Saturday to repeat the process. At the end of Saturday, we packed up the client's materials in the packaging, and left the Convention Center. I returned the materials to the client within the week."
"It was such a great event, and I am excited for next year already! Now that Spring is here, I am gearing up for another great party season with Party Host Helpers! I love working events such as this one, but also home parties!"
Party Host Helpers can help with any gathering or function you host this Spring! You can hire servers, bartenders and party support staff in San Francisco!
Get a Quote for Your Next Event!