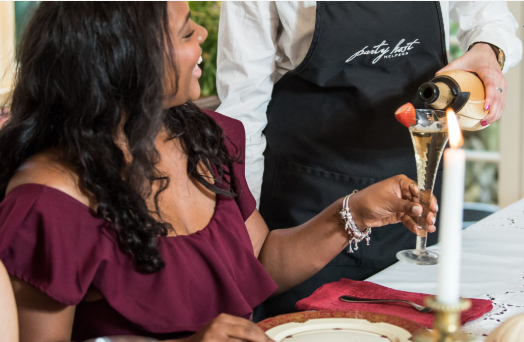 The holiday season has arrived and party planning in New Jersey and throughout the nation is well underway! Be sure to add hire a local server from Party Host Helper to your to-do list! Whether you're hosting a small family get-together or a big gathering, our service staff can help! Our team of professional and friendly event staff will help you by setting up your party, serving your guests and cleaning up during your holiday party. Our goal is to be one step ahead of what you, the host, needs done so you can spend less time in the kitchen and more time enjoying your party and guests!
New Jersey Party Host Helper Julieann Prepares to Serve Holiday Dinner Hosts


The holidays are a busy time for Party Host Helpers and North Jersey Party Host Helper Julieann is always prepared to make sure her host can stress less. That's why she's a favorite server of many of our hosts! While getting ready to serve a Thanksgiving dinner this year, Julieann took a moment to share a few of the ways she approaches helping a host:
1. When serving dinner on a special holiday, like Thanksgiving, I remain calm and collect. Every host gets nervous, once in a while, about everything going perfectly. I aim to reassure the host with my ease and confidence.
2. Upon arrival at a home, I always discuss the timeline for the dinner with the host to ensure I am prepared for the entire night.
3. Asking the host what needs to be done first; such as setting the Thanksgiving dinner table or preparing the appetizers, allows me to I prioritize. This makes sure I start the evening in step with the host.
4. I'm attentive and take initiative. If the garbage is full, I tie it up and take it out. If the appetizers are running low, I refill them. I don't wait for direction from the host! It's my intention that I accomplish what the hosts needs before they even know they need it.
5. Accommodate the guests is an important part of any party. I check with guests ,throughout the duration of the party, by asking if they need anything, such as a drink refill. And always do it with a smile on my face! I want to make sure the guests have a great time.
6. Preparing for cleanup is key to a good finish to a party. I like to have Tupperware for leftovers ready-to-go to allow cleanup to go smooth and quick!
7. The last thing a host wants to have to do at the end of a long day of cooking is to clean the kitchen and do the dishes. I make sure the house is as spotless as it was when I walked through the door — everything put away, leftovers in the fridge and trash taken out.
---
professional & hard–working
Imagine… Hosting your next party and your only job is to ENJOY!
---
Now that your ready for you next party, don't forget to book a Party Host Helpers to serve your guests (and you!) so you can sit back and enjoy the great time you worked hard to make happen!
Can We Help You?
Send us your Party Details and we'll get back to you!