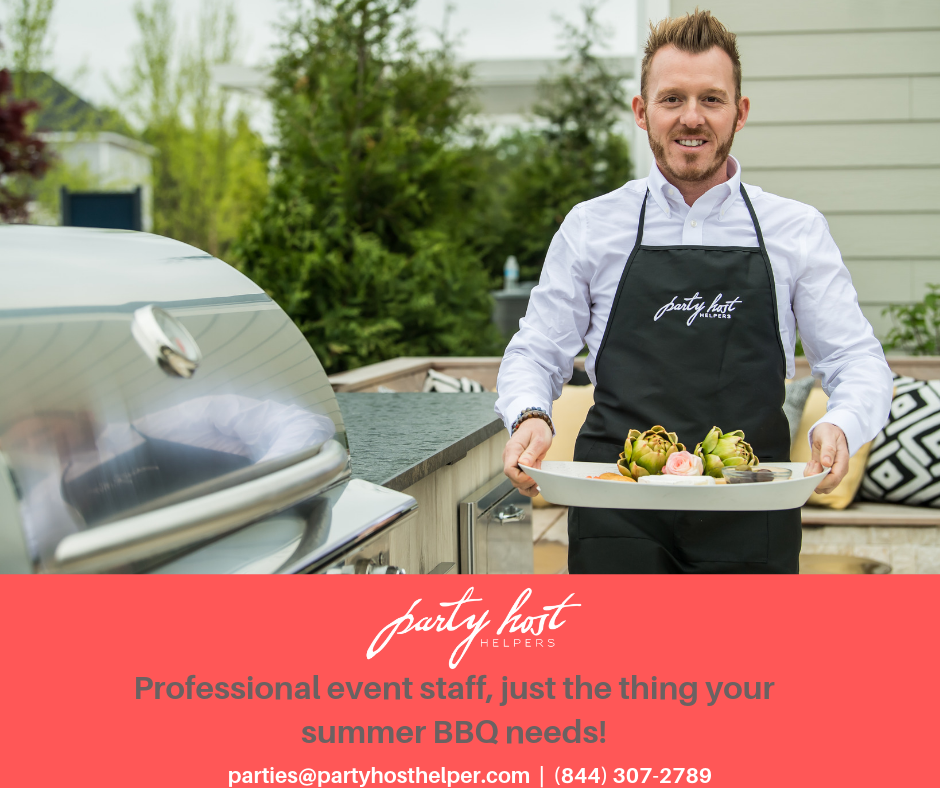 It is almost the official start of summer! Now that Memorial Day has passed, we are all itching to spend our hot days and warm nights filled with summer barbecues surrounded by friends and family. It can be overwhelming to host your loved ones while trying to enjoy the party. Party Host Helpers are the essential addition to your summer barbecue. Our nationwide party staff for hire include bartenders and servers who can help greet guests, set-up, clean, and more!
Now let's talk FOOD!
If you are anything like us, you do not think a summer barbecue is complete with coleslaw. Our latest favorite coleslaw recipe contains fruit – we would have never thought to include some of our favorite summer fruits into such a classic food but it balances the dish so well. Stop by your local grocery store for cabbage, mangos, papayas, pineapple, almonds, parsley, and green onions for the coleslaw – and don't forget the dressing to top it off: honey, dijon mustard, lemon juice, extra virgin olive oil, brown sugar, red wine, hot sauce, garlic, and a jalapeño. With so many of the ingredients commonly found in your kitchen already, this recipe is perfect to throw together quickly. This modern and summer take on coleslaw is a definite to be a crowd favorite – be sure to make extras, we're sure your guests will be going back for seconds!
Grilled skewers are such a great option for large summer barbecues. Everyone is able to customize their own skewers and add their choice of vegetables, meats, and fruit for their own combination; this can be especially convenient when hosting guests with certain dietary needs such as vegetarians and pescatarians. Because this can be a bit confusing to keep track of which skewer belongs to each guest, the addition of a Party Host Helper can really relieve that stress for you, work the grill, and make sure that you are enjoying your company rather than focusing on the behind the scenes duties of a host.
Games are the perfect addition to add some friendly competition to a barbecue! Family friendly, giant, colorful jenga is easy to make and fun for all ages. Stop by your local hardware store and pick up 2×4 wood boards, have them cut into forty-eight 10 ½ inch pieces and you're all set! You can paint them to your discretion – you can even save money using craft paint instead of wall paint. Painting is a great activity to involve the kids and to get their hands a little dirty while showing off their creativity!
This summer, relax, enjoy, and let our helpers do all the work for you. No matter where you are across the country, we have staff that can make your next event a success. We are located in Austin, Charlotte, San Diego, Denver, Connecticut, Philly, Richmond, D.C. and so many more cities. Our staff is trained for all types of events – birthdays, weddings, networking events, you name it – we are glad to help! To hire Party Host Helpers for your upcoming event, book now. Happy Summer!