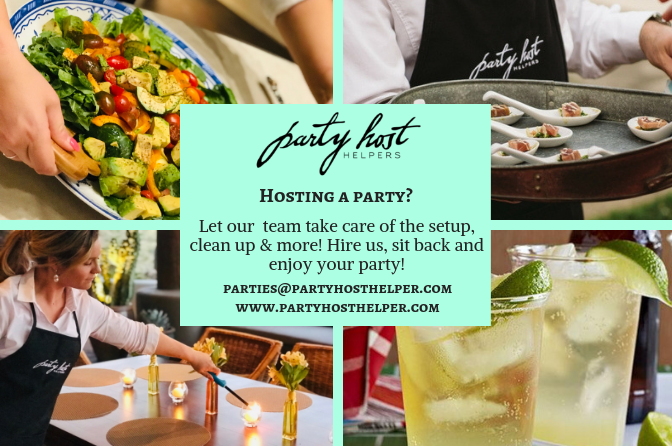 So you found a venue and found a date, the hard part is over, right? Well, sort of. Finding a date and a place to host your event is the first step in planning your party. Now that you have a space, you know what vendors you'll need. Having a party in your backyard? You'll most likely need to hire staff, rental items, and a caterer. At certain venues, it's a different story. That's why Party Host Helpers is here to give advice to make your event a success!

DJ: When picking your DJ, check out their website to see and hear videos of them in action. You can also ask what the process is for hiring them. For example, do they do planning calls or have a form to fill out to ensure the songs played are to your tastes?
Caterer: When hiring a caterer, it is always nice if you can sample the food. For a smaller backyard party, you most likely won't do a tasting. However, many drop of catering places also have ready to go meals which you could stop in and try in advance.
A great way to judge how the food looks is to check out their social media pages. See what they post but (more importantly in this case) what their customers tag them in. You can see the dishes how they'd look at actual events.
Staff: Party Host Helpers has the best tips for booking your party staff for hire! As a company that provides party and event staff nationwide, we know what we're talking about. We recommend hiring experienced and background checked individuals. This way, when having staff help out in your home or wherever your event is, you know they not only know what they are doing, but that they are trustworthy & reliable.
Rentals:
When booking vendors for your event, there's a few things to keep in mind. One is something that many of us do when making any kind of purchase: reading reviews. When reading reviews, sometimes you have to take them with a grain of salt. Overall though, you can get a grasp on your vendors. Were they easy to work with? Did they arrive on time? We're guests raving about them?
Another thing to keep in mind is to listen to the referrals of you other vendors. If your caterer has a rental company they work with, they are probably the ones to book. Not only will they be familiar with the rented equipment, but they are referring them because they've had good experiences in the past. That sets up your event for success.
We hoped this helped you for when it comes time to book your vendors. If you need staff at your event, we hope you'll keep Party Host Helpers in mind. We are nationwide and service Philadelphia, Hudson Valley, Austin, Virginia Beach, Richmond, Phoenix, Charlotte, San Francisco, San Diego, Washington D.C., New York, Connecticut, and many more cities! Our staff are experienced and background checked bartenders, servers, and party staff for hire. Let's chat!