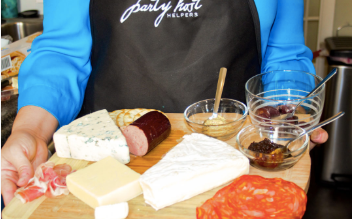 Who doesn't love cheese? For your next gathering, make a Cheese Board and please your crowd. They look great in the center of the table, and can be put together based on your own personal taste! If you like strong cheese, add some cheddar and blue cheese. Or if you prefer more mild types, add brie and fontina.
What you'll need:
You will want to combine cheese, meat, sauce and sides to your cheese board. Again, a cheese board is completely customizable to your tastes. We purchased everything from Trader Joe's – they have great options and are inexpensive. Another great choice is to go to your local Italian Market or grocery store and grab it all in one place.
Cheese – It all starts with the cheese! We recommend getting at least 3 options and all of different flavoring. Ideally, there will be a mild, medium, and strong cheese. We love using a mild brie, a medium or sharp cheddar, and a stronger or funkier smelling cheese like bleu cheese, or a goat cheese.
Meat – Choose 2 to 3 of your favorite Italian meats to round out the cheese. We love getting the 3-pack of charcuterie meats from Trader Joe's and calling it a day!
Sauce – When we say "sauce" we mean the topper to the cracker – the cherry to your sundae! We're a fan of whole grain mustard, fig jam and honey because all three are a great balance to the variety of cheese options you have added to your board. Not a fan of fig, add apricot or strawberry!
Sides – Let your personal taste shine with the sides! You can add some nuts, special crackers and bread, fruit, olives – really anything you want to round out the board. Go crazy!
Directions:
Add and place your cheese. The cheese should take up around 60% of the space on the board. If you need to cut up some of the blocks of cheese, do so and stick in the fridge for later!
Place your choice of meats, either rolled up or sliced.
Add small bowls of whatever sauce you have chosen off to the side of the cheese and meat.
Place your other sides wherever you want – if you want to put some olives in the center, go for it! Use whatever space you have left for crackers, nuts, fruit, etc.
ENJOY!
Can We Help You?
Send us your Party Details and we'll get back to you!