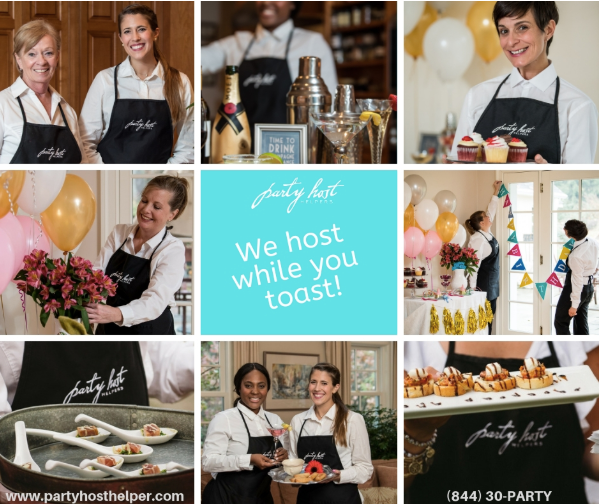 At Party Host Helpers we are proud to offer the services of our experienced event staff for hire for your next event! Our staff are trained and background checked servers, bartenders, and overall fabulous people. From dinner parties, to birthday parties, to your wedding, Party Host Helpers can make your special day perfect. We highlighted a few of our helpers from different cities so you can learn more about the people who will be there for your event and get insight on some of their party tips!
Ashmara from Washington, DC
"I like being part of the PHH team because it provides a way to meet people from all different places, it helps me gain more experience, and I get to learn about different foods."
Ashmara's tips for helpers:
1) Always arrive on-time or 10 mins before so that you can have a scan of the area you're working in and talk to the host.
2) Always do a walk-through of the party to make sure there is no trash around.
3) Smile, Smile, Smile!
4) Bring a small lighter, bottle opener, and index cards to label food just in case the host does not have any.
Samantha from Bucks County
"Recently a bride told me we made her day so carefree. Having us there eased her mind,and allowed her to have her dream wedding! That was a great compliment and why I love being on the team! Everyone I've worked with on the PHH team has been really nice, and are hard workers like me. I also like the flexibility to pick what jobs I'd like to work to make some extra money!"
Samantha's tips for hosts:
Prepare, prepare, prepare! Don't leave things for the last minute. Set your to-do list early so you aren't overwhelmed the day-of. Try to do as much in advance as you can.

Don't overthink it. Most people come to a party for some good food, drinks & socialization. Everyone loves apps & finger foods – you don't need anything super formal.

Have a playlist ready to go! Nothing is more awkward than silence, so make sure you have music playing to break that up and possibly serve as an icebreaker for your guests. If you're lucky, you'll get people dancing and singing by the end of the night!
Mikaela from Denver
"I like being part of the PHH team because there's something so special about watching a host truly relax and enjoy their own party."
Mikaela's party tips for hosts:
Keep food/appetizers simple – finger foods usually work best!

If you're serving dessert (and why wouldn't you?), opt for mini versions of your favorite treat. Mini cookies, cupcakes, brownies… endless possibilities

Start with a clean kitchen and clean as you go. It makes the end of the night and the next morning so much more relaxing.

Buy your alcohol from a store that allows returns – in Denver, Argonaut is a great option. Buy extra then you can return any unopened items because nothing is worse than running out mid-party!"
Antoinette from Hudson Valley
"I love being part of the PHH team because every assignment is unique and exciting."
Antoinette's tips for helpers:
Always arrive on time with a neat appearance and a smile

Pay very close attention to details

Be sure to deliver exceptional service no matter the occasion
Jen from Philadelphia
"I love being a Party Host Helper because it NEVER feels like work, but more like I am part of a bigger picture all coming together to make something awesome happen. Plus, I love seeing the hosts of the party actually enjoying themselves and not stressing out."
Jen's tips for hosts:
Make a list for everything: food list, drink list, guest list, to-do list. It keeps you organized, on task, and it's also so satisfying to cross things off as you go.

Make dishes you are familiar with and are not high maintenance, or better yet, order catering from a trusted vendor. It's no fun having a party when you are exhausted before your guests even arrive because of all the prep you've been doing all day.

Keep everything simple! Add some themed decor and a few personal touches such as a signature cocktail or include sentimental items & traditions into the affair. Then just sit back and relax!
We hope you enjoyed reading a bit from our helpers and that you understand just how helpful they truly are. If you'd like to learn more or book helpers at your next event contact us today!