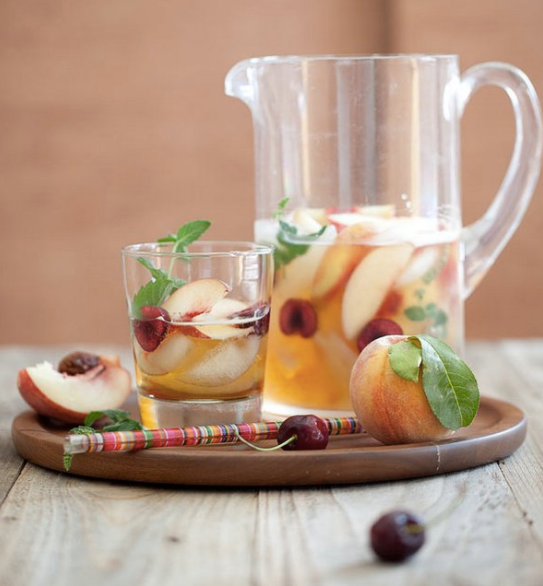 The hot, humid summer air has arrived and is here to stay! Grab your bathing suit and whip up a batch of one of our favorite and refreshing cocktails to beat the heat this summer – perfect to re-create for any party! You can even customize these cocktails with different types of fruit or herbs based on your personal taste. Sit, pour and enjoy!




White Peach Sangria – Who doesn't love sangria? The perfect summer drink, and you can make in bulk! Also, another great option that you can customize with your favorite fruits. Like citrus? Try adding lemons and apples instead.
1 bottle white wine such as Riesling or Chenin Blanc
1 bottle sparkling peach juice, Kristian Regale is what I used
1 peach, sliced
1 pear, sliced
10-15 cherries, sliced
4-5 sprigs fresh mint
Instructions: Once ingredients are compiled in a large pitcher, refrigerate for a min of 1 hour and up to overnight. Serve over ice and enjoy.
Cucumber Cooler – This drink will cool you down on any hot day! A simple and refreshing twist on a normal gin and tonic. Grab some cucumbers and start slicing!
(Serves 1)
1.5 oz gin (or 3 Tbsp)
4-6 cucumber slices
1/4 lime, sliced
4 oz tonic water
6 mint leaves
1 Tbsp sugar (optional)
Instructions:
1. Add mint, lime, gin, sugar (if using) to shaker and muddle
2. Add cucumber slices to shaker and shake vigorously.
3. Pour mixture over glass filled with ice and top with tonic water.
4. Stir, let set for a few minutes for the flavors to enhance and enjoy.
Mango and Plum Sweet Tea Cocktail – Change up your average sweet tea this summer by adding some mango and plum for a new and delicious flavor. Pour over ice and enjoy!
(Serves 1)
3 ounces tea
2 ounces fresh orange juice
1 ounce bourbon
2 ounces Jeremiah Weed Sweet Tea Vodka
plum and mango, cut into cubes
Instructions: Mix tea, orange juice, bourbon and sweet tea vodka in a short glass. Add cubes of fruit and serve with ice. Optional: garnish with fresh mint leaves.
Champagne Mojito – For those champagne lovers, we have a drink for you too! Both refreshing and delicious. Enjoy this classic mojito with a twist by adding your favorite champagne or prosecco for some bubbles!
(6 servings)
¼ cup fresh mint leaves, plus more for garnish
¼ cup thai basil leaves
3 tablespoons super fine sugar
2 limes, cut into wedges
1 cup rum
1 bottle cold cava (or champagne/prosecco of choice)
Instructions: Put the mint, thai basil, sugar and lime wedges into a small glass and muddle, in batches if needed. Pour the rum into a pitcher and add the mint mixture and lots of ice. Top with the cava and pour into glasses filled with ice. Garnish with fresh mint or thai basil.
Coconut Margarita – Coconut reminds us all of summer time and vacations. Splash up the normal margarita by adding a little coconut flavor!
(Serves 2 drinks)
1½ ounces Patron reposado tequila
½ ounce cointreau
1 ounce coconut cream
1 ounce coconut milk
½ ounce fresh lime juice
Splash of half and half
Splash of simple syrup (1/2 cup sugar, ½ cup water brought to a boil until sugar dissolved, then cooled.)
lime wedges for garnish
Strawberry Basil Lemonade Cocktail – This is the perfect summer drink and super customizable. The ingredients and recipe is easy and can be made to taste. Throw in as many strawberries and vodka as you want and enjoy!
(Serves 1)
5-6 fresh strawberries chopped and muddled
2 basil leaves
3 tbsp vodka (or gin to taste)
lemon (cut into individual pieces and squeezed in for fresh flavor)
lemonade


Having a party this summer? Don't forget to hire some help so you can enjoy one of these delicious drinks with your guests, without the hassle of hosting! We have bartenders and servers ready to go for any event. Contact us for a quote.