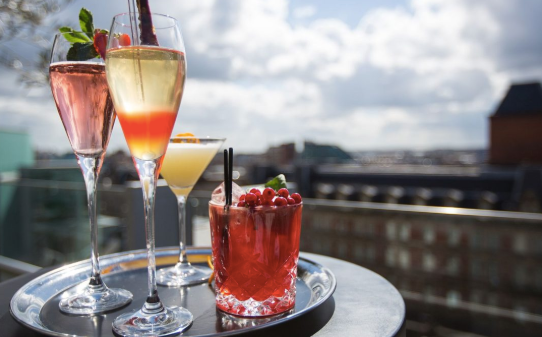 The warm weather of summer has arrived and it's time to take your party outdoors. Enjoying a special event doesn't have to happen at your home, you can get a great atmosphere and wonderful service at some of the many outdoor/rooftop bars around your city!
We asked a few of our Party Host Helpers, who are located all around the country, to shared their favorite outdoor spots for impromptu celebrations. Whether you're in Philly, D.C., NYC, L.A. or Chi-Town, these are great outdoor locations for celebrating a birthday or coworker's milestone or getting together with a few friends just to enjoy the weather and a tasty cocktail. Be sure to check these great locations for a gathering of friends and have some fun this summer!
A newer South Philadelphia rooftop spot that continues to become more popular each summer. It is located on top of the historic BOK building. Enjoy some drinks and a great view of Center City in a relaxed atmosphere.
1901 S 9th St, Philadelphia, PA 19148
Website
For a fancier vibe, try Stratus, located on top of the Red Owl Tavern in the heart of Old City! A great happy hour spot for locals to enjoy views of historic Philadelphia.
433 Chestnut St, Philadelphia, PA 19106
Website
---
This lavish rooftop bar and lounge has dramatic views of the Potomac River, Kennedy Center and Washington Monument. It's the perfect spot to grab a specialty craft cocktail, or better yet, a signature whiskey.
1050 31st St NW, Washington, DC 20007
Website
If you are looking for a more casual vibe, check out this newer addition to DC, located on the Hyatt Place Hotel in the National Mall area. Enjoy some drinks and the unobstructed views of the city.
400 E St SW, Washington, DC 20024
Website
---
One of New York's most popular drink spots, and for good reason! Small bites, great drinks and the breathtaking views of the Manhattan skyline and Hudson River have made this a must-see bar for locals and visitors. Definitely check this one out this summer if you haven't already!
653 11th Ave (FL 16), New York, NY 10036
Website
Located on top of the Wyndham Garden hotel with floor to ceiling windows providing a direct view of the Empire State Building. Grab a cocktail and go out onto the open roof deck for a panoramic view of lower Manhattan.
93 Bowery Street – 18th floor, New York, NY 10002
Website
---
A French inspired rooftop bistro that offers unobstructed views of Downtown Los Angeles. There are two outdoor fireplaces, various fire pits, lounge and table seating both indoors and out. Perfect date night spot.
448 S Hill St., Los Angeles, CA 90013
Website
One of LA's hottest rooftop spots. There's great food, drinks and a pool. Perfect spot to relax this summer on the lounge chairs, enjoying the views of downtown LA, or better yet, grab some friends and have a pool party!
6317 Wilshire Blvd., Los Angeles, CA
Website
The "jewel in the crown" of The Chicago Athletic Association Hotel. Cindy's is a great spot for lunch, dinner or Happy Hour. You can hang inside or walk out onto the open-air terrace for panoramic views of Millennium Park, the Art Institute, Lake Michigan, and beyond. A must visit.
12 Michigan Avenue, Chicago, IL 60603
Website
Located in the Wrigleyville neighborhood, and a true favorite of the locals. Kick back with a drink, some delicious BBQ, and enjoy the weather while listen to some live music.
3506 N Clark St., Chicago, IL 60657
Website
Summer is just getting started! Don't forget to book a Party Host Helper for your next party, outdoor or in, so you can sit back and enjoy a cocktail
Can We Help You?
Send us your Party Details and we'll get back to you!