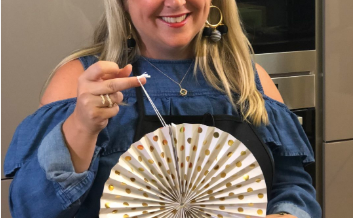 These paper fans are a super cute DIY decor item to recreate with your friends and family! They make the perfect addition to your dinner table, wall decor or as a back drop to a birthday cake!
Square Craft Paper in various colors
Scissors
Twine or Ribbon
Hot Glue Gun
Directions:
Cut two or three identical rectangular strips of the same paper – the longer they are, the larger the circle will be. The wider they are the larger the fan will be.
Fold the paper accordion-style width-ways, about inch for each fold. Press each fold to ensure they lay flat.
Holding one piece, fold it in half and glue together the two sides. Repeat that if you are using three strips of the paper. Once dry, fan out the folds to make a semi-circle. Repeat with the other pieces.
Glue the straight edges of both fanned semi-circles together to complete the circle and leave to dry.
If it pulls open in the middle, you can cut a small circle or square of the paper and glue to hold the fan together.
Glue or tape twine to the back of each circle and then hang.
We filmed this video in one of the beautiful model kitchens at Spogue Kitchens and Bath in Wayne, PA. Visit their website for more information.