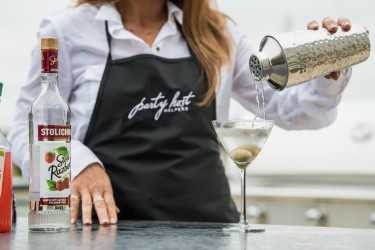 Thinking about hiring a bartender for your next home party or a social gathering at work? Having a bartender from Party Host Helpers can actually help save you money by avoiding guests over-pouring or worse, not knowing how to make a tasty drink and making an unenjoyable one. This saves (you) the host one less thing to stress about knowing guests are fully taken care of! Here's the top reasons why you should go ahead and hire a bartender for your next gathering:
Help with the set up and clean up

One of our trained and experienced bartenders will come to the party before it starts to set up the bar before any guests arrive. This way, when your guests show up, they can be greeted with a cocktail! After the party is over the bartender can stick around and clean up the area so you don't have to.
One thing to note is that opting for a self-serve bar can be a mess. With empty beer cans, spilled cranberry juice, and limes left behind it can be a sticky disaster. Without event staff, the host is the one left to clean it up! Forget that, have a bartender who will continue to clean the bar throughout the party to ensure it stays clean.
Be a guest at your own party
Have you ever hosted a party where you constantly felt the need to check on guests and refresh their drinks? By the end of the event, you hardly spent any time with your loved ones! Which is why a bartender allows you to be able to enjoy your own party. This way the guests are taken care of, and so are you!.
Guests don't have to make their own drinks
Sometimes guests have no clue what they're doing when it comes to drinks, which is where the professionals come in! Having a bartender their eliminates guests wasting alcohol by making a drink creation they end up dumping out. Our talented staff can make complicated drinks and ensure the cocktails have the right amount of alcohol in them. If the guest is a little heavy handed on pouring their own alcohol it could be easy for them to be over-served which could be a liability.
Take your party to the next level
Adding event staff to your event will take your party to the next level! This higher level of service will make guests feel special and give them another reason to talk about how much they loved your party.
Looking for fun cocktails for your next event? Follow us on Instagram and Facebook, we are always posting fun new recipes for cocktails (and food!)

No matter where you are in the country, Party Host Helpers has amazing bartenders ready to help your party. They are licensed professionals with experience in making fancy cocktails while providing your guests an amazing time at your event! Contact us today.