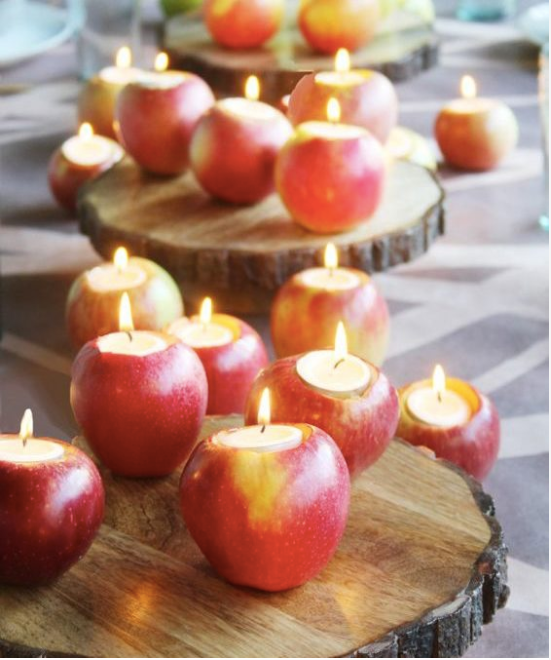 Whether you're hosting a party or just having a few friends over for some cocktails, it's always fun to have some great fall-inspired decorations around the house! Party Host Helpers has you covered with a few DIY crafts that will spice up your home for any occasion! They're also a fun activity to do with your kids or friends on a weekend afternoon! Check out some of our favorite ones you'll want to try yourself!
Apple Tea Lights
It's apple picking season, and these easy apple tea lights will be a great décor item at any party this fall! Easy to put together in a few simple steps! All that is required to buy are apples and tea lights, which you can get at your local AC Moore!
Directions:
1. Gather as many apples as you desire
2. Place tea light upside-down on top of the apple and trace the circle.
3. Cut the circle with a knife.
4. Take out all the apple insides with a spoon.
5. Place tea light inside of the apple
6. Place apple tea light in any flat surface centerpiece.
Festive Acorn Wreath
This is a great activity to do with your kids! All you need is acorns, which can be from around the yard or purchased; a grapevine wreath, glue gun, and burlap! You can get everything for this craft from your local arts and crafts store!
Directions:
1. Gather your acorns! If you do not live in an area with many oak trees, you can buy bags of cleaned acorns.
2. Take the grapevine wreath, and begin gluing the acorns at even distances around until the wreath is covered
3. Once your satisfied, grab the burlap and create a bow. Tie the bow around the top of the wreath
4. For an extra touch, add some gold glitter mist! (optional)
5. Hang the wreath up on your door, and voila!
Cinnamon Candles
The smell of cinnamon this time of year is so comforting! Why not make some cinnamon candles to light up next time you have guest over? All you need are some plane white candles, rubber bands, ribbon or twine, and cinnamon sticks – all items that can be purchased at your local arts and crafts store! Make your house will smell like cookies with these simple steps!
Directions:
1. Place a rubber band on the candle
2. Put Cinnamon bars under the rubber band covering the whole candle horizontally.
3. Place a ribbon over the rubber band either tied or hot glued, and voila!
4. Light up your candles, and smell the cinnamon!
Pumpkin Bucket Craft
Another cheap and simple décor item that can be placed anywhere around the home! All you need is some spray paint, newspaper, and plastic pumpkin buckets from your local Michaels or A.C. Moore!
Directions:
1. Pick up a few pumpkin buckets
2. Head outside and place some newspaper down to prevent further mess
3. Spray paint each pumpkin and let dry
4. Fill with flowers, stack them or use as candy-holder for Halloween – the options are endless!
5. For an added touch, you can buy some letter stencils and spell out anything of choice!
Leaf Mason Jars
This craft is great to do with the kids, and can be placed around the house for a festive touch of fall! To get started all you need is a few mason jars, Mod Podge, and some leaves (we prefer artificial) from your local arts and crafts store!
Directions:
1. Gather up some mason jars and artificial leaves
2. Apply the Mod Podge to the outside of the jar with a sponge brush or paint brush
3. Place the leaves on the jar so they stick
4. Add some twine around the top, and a tea light inside for a cute fall décor upgrade!