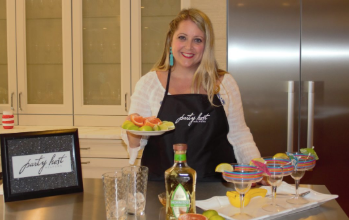 This cocktail is the perfect combination of smokey, sweet and fresh! It is our go-to summer cocktail and party drink!
Ingredients:
Hot pepper simple syrup:
♦ 1/2 cup of water
♦ 1/2 cup of sugar
♦ 1/4 teaspoon of cayenne pepper
Cocktail:
♦ 3-4 tablespoons of tequila (we chose Hornitos Tequila because it has a great smokey flavor)
♦ 1 grapefruit, juiced
♦ 2 lime wedges
♦ 4 tablespoons of premade simple syrup
♦ Salt and cayenne pepper (optional for rim)
♦ Ice cubes
Directions for Simple Syrup:
Add your sugar, cayenne pepper and water to a sauce pan. If you like your cocktail super spicy, add a bit more cayenne to taste. Turn heat on medium and let mixture heat up enough for the sugar to dissolve, and then take off heat and allow to cool.
Directions for Cocktail:
Cut grapefruit into quarters and use lemon juicer to squeeze juice into glass or pitcher
Juice half of a lime and add to grapefruit juice
Add your spicy simple syrup
Add the tequila (we put 3-4 tablespoons in ours, but feel free to add more if you like a stronger cocktail)
Add ice to mixture and stir with spoon
If you're a salt fan, mix cayenne and salt on a plate, add water or lime to the rim of your glass and dip in the salt mixture
Fill your margarita glass with mixture and enjoy!
We filmed this video in one of the beautiful model kitchens at Spogue Kitchen and Bath in Wayne, PA. Visit them for all your indoor and outdoor kitchen cabinetry and design needs!