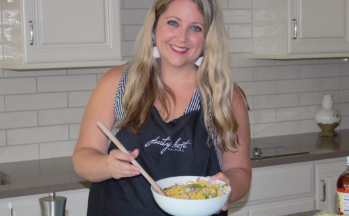 This Corn Salad recipe is one of our favorite dishes to whip up in the summer. Not only is it easy to throw together, but it's also delicious and is perfect as a side dish or appetizer with some chips!
Ingredients:
Corn (we cut the kernels off of 3 ears of corn)
1/2 cup of red onion (diced)
Basil (3-4 leaves chopped)
3 Tablespoons of olive oil
2 Tablespoons of Apple Cider Vinegar
Salt and Pepper to taste
Corn chips on side (optional)
Directions:
Add your corn to a medium bowl. You can either buy frozen corn and defrost, or cut the kernels off of fresh corn. We recommend using fresh corn if you're making this dish in the summer since corn is so fresh this time of year. Then add your diced red onion and mint. Stir. Add your olive oil and vinegar, and stir together. Add salt and pepper to taste. Serve as a side dish or as an appetizer with some corn chips, and enjoy!
We filmed this video in one of the beautiful model kitchens at Paoli Walk in Paoli, PA. Visit their website for more information on the gorgeous homes for sale.