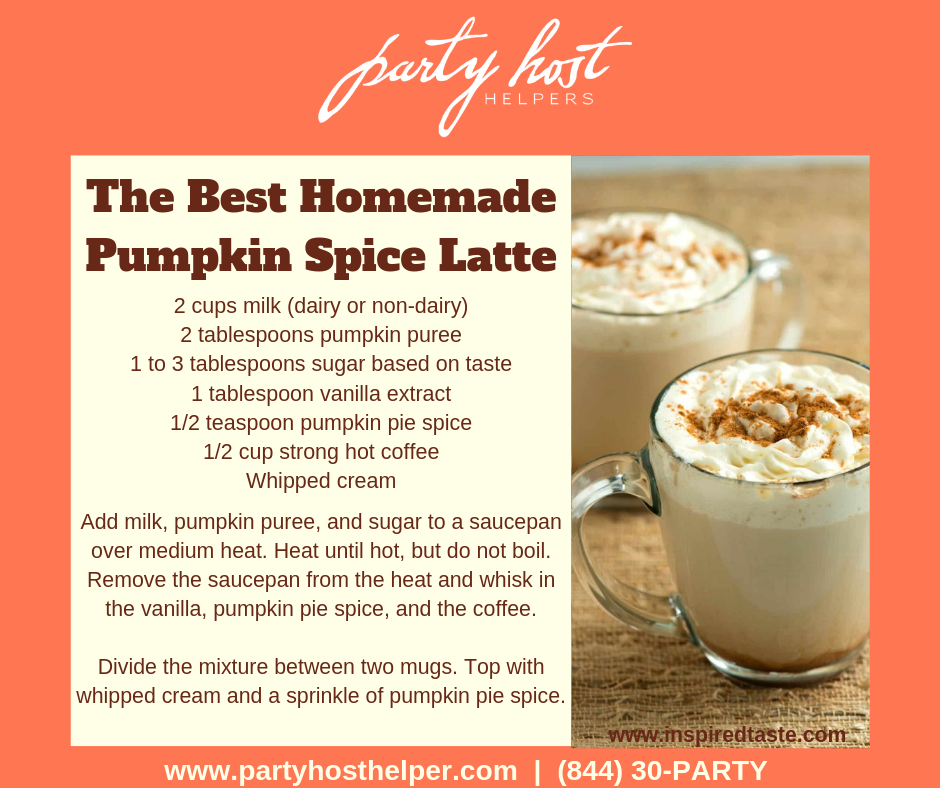 Fall is officially here and chilly weather is just around the corner. It is the season of apple picking, pumpkin spice, and fall events. Party Host Helpers has delish recipes to go with any party or activity you're part of this year. If you don't consider yourself to be a mixologist, no worries. We have bartenders on staff who can do it all for you (including the dishes!)
Taste the season by combining its two best flavors! This Pumpkin Apple Shandy is easy to make but will impress your guests. Serve it at any cocktail party! The bourbon is optional but encouraged if you want it to pack a little more of a punch.
You can never have enough pumpkin, are we right? This Pumpkin white russian is a spin on the old classic. It is best served over ice, which makes it great for our friends on the west coast or down south where the weather is still warm.

Hot Pumpkin Spice Drink (gluten free and can be vegan!)
This drink not only looks beautiful, it tastes amazing too! It can be made dairy-free and is gluten free so it is a great option to serve your friends who may have dietary needs. It is served warm so it is perfect for those colder nights and pairs nicely with oversized sweaters and comfy throw blankets.
Who said margaritas should only be served during Cinco de Mayo or in the summer? If someone did, we certainly don't agree! This honey pear margarita is exactly what you need this fall, you won't be disappointed! The best part? You only need 4 to 5 ingredients!
These amazing cocktails plus your friends and our talented staff will make your next event an absolute success. If you make any of these cocktails, be sure to post on your social media with the tag #PartyHostHelpersTips so we can see what you've made!
Party Host Helpers has the party staff for hire to make any event, big or small run smoothly. We have bartenders who can mix up drinks at your home, at an event venue, and anywhere in between.
Fall is the time for big sweaters and fun parties, not a time to be in the kitchen setting up appetizer platters or crafting drinks. So let our bartenders can take over those duties for you. We are nationwide and your local Regional Directors will personally staff your event. Give us a call today, and don't forget to share this blog on your Facebook page, cheers!