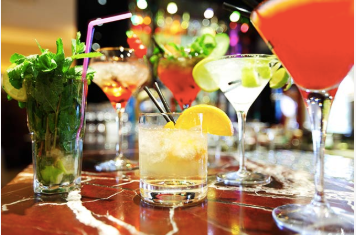 Summer is in full swing, and there's no better time to host a get-together with all your closest friends. We love the idea of throwing a cocktail party! It's a great time to try out some new recipes while enjoying the warm weather.
Our Party Host Helpers Marketing Manager and party expert, Paige, put together a list of her favorite summer drinks that you should try out for you next party!
Summer Lemon Prosecco Punch: Who doesn't love a little Prosecco in their life!? Here is a prosecco cocktail with a bit of a summer punch. It consists of lemonade, prosecco, vodka (bet you didn't expect that one), berries, and a bit of mint. Super simple and easy to whip together for your guests.
Pour a full bottle of Prosecco in a pitcher with your favorite lemonade (4-6 cups), and citrus infused vodka (1/3 cup).
Next, add frozen blackberries (1 pint) – this will help keep your drink cold as well as making it a bit more fancy!
For some extra flavoring and garnish, add fresh mint leaves!
If you don't like blackberries, feel free to use any other frozen berries or a mix!
Hawaiian Mimosa: Mimosa Lover? Try it with a bit of a twist. This is super easy to throw together with only 3 ingredients – champagne, pineapple and rum!
In a pitcher, add 1 cup of coconut rum, 2 cups of pineapple juice, and a whole bottle of champagne!
Want to make it look fancy!? Garnish some glasses for your guests with pineapple slices and maraschino cherries or let your pineapple and cherries float in your pitcher!
Classic Lime Mojito: Need something refreshing to add to the menu? Try the classic crowd-pleaser!
Mix your favorite lime-flavored rum with (3/4 part) lime juice, (1/2 part) sugar, and (3 parts) soda water!
Muddle fresh mint leaves and sugar in a glass, pour in your refreshing mojito mixture, garnish with fresh mint leaves, and ENJOY!
Watermelon Margaritas: Margaritas are a summer must-have, especially when you add in some delicious watermelon! This recipe calls for diced watermelon, sea salt flakes, tequila, triple sec, fresh lime juice, and agave syrup. Serve on the rocks or frozen!
Blend 4 cups of the diced watermelon in a blender until smooth!
Filter your blended watermelon through a mesh sieve to remove all of the pulp.
Next, add a pinch of salt to your watermelon juice. Be sure to taste test to make sure it's enough for your liking.
Combine 12 ounces of watermelon juice in a pitcher with the (8 oz.) tequila and (4 oz.) triple sec.
Mix the (4 oz.) fresh lime juice and (2 teaspoons) agave syrup together. Once the syrup is dissolved, add it into your watermelon mixture.
Stir it together, salt the rim of your glasses and add a watermelon slice as garnish.
Great Grapefruit Shandy: Looking to have some beer on the menu? This is a delicious alternative that is a must-have for your party. This recipe includes (Deep Eddy) Ruby Red Grapefruit Vodka, (Leinenkugal's) Grapefruit Shandy, ice, and grapefruit slices for a garnish.
Just add 1 shot of (Deep Eddy) Ruby Red Grapefruit vodka in a glass with the ice.
Add (6 oz.) of (Leinenkugal's) Grapefruit Shandy Beer on top of your vodka and ice. Lightly stir together and enjoy!
Orange Crush: Want to include a summer classic!? Serve these tasty, summer-friendly Orange Crush's – your guests will love it! The recipe calls for vodka, triple sec, sprite, and fresh orange juice. If you're not a sprite fan, use club soda instead!
Pour 1 shot of vodka and 1 shot of triple sec into a glass. Squeeze the juice of half an orange into the mixture.
Top off with sprite (add a little more orange juice if you want), stir it all together and drink up!
When it comes to hosting a party and making the cocktails, it can sometimes be a pain to do both! Instead, try doing a "create-you-own" bar style set up with print outs of your chosen cocktail recipes for your guests to follow on their own! Put all of the ingredients in different bowls, pitchers, etc. and label it!
It's always best to spruce up a party with some fun colored décor! Painted pineapples can be used as center pieces – super easy, fun and simple to put together! Your guests will love it and you will definitely impress them. For a step-by-step guide on how to make some great party décor items such as the Painted Pineapples, check out our YouTube channel! Click here!
Want to keep your bottles of wine cold without loading up your refrigerator? Fill up a bucket with frozen water balloons and place the wine in the bucket to keep cold. Another great option is to fill a baby pool with your beverages, and place the frozen water balloons in there to keep everything nice and cold on a summer night! Both kid and adult friendly!
The best party tip of all is, of course, to hire Party Host Helpers to help with your party! We provide bartenders, servers and party staff to help take care of everything at your summer bash! Hire one of our Bartenders to mix the cocktails for you, so you can sit back and enjoy your guests!


Hire us for your summer party!