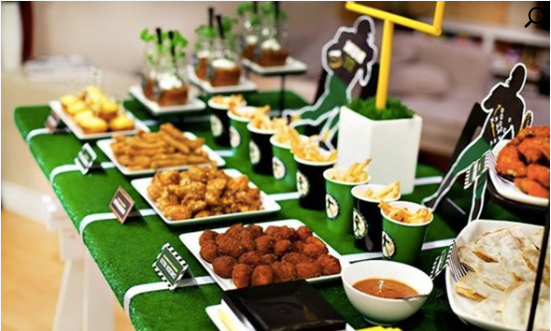 As we say goodbye to summer, we welcome all that the fall season has to offer, most of all football! There is no better time to have a football themed bash for your kids or with your friends for the next game day! Party Host Helpers has you covered with some great tips to take your party to the next level!
Invitations
A party is incomplete without some great invites! We love the idea of creating a custom football ticket! All you need is a printer, some paper, and a template such as this one. Add your address, date and time, and get printing!
Appetizers
Let's be honest, football themed parties are all about the food. Everyone loves pizza and wings, but guests will appreciate a few healthier options as well! Try these buffalo cauliflower bites – so delicious, your guests won't know the difference!
Games
Keep your guests entertained with some great games to play before the game starts, and during commercial breaks! Add some competition by having your guests "guess the final score." Whoever comes the closest takes home a prize of your choosing, such as a fun trophy, or container of yummy treats! All you need is a cardboard box with a thin hole cut into the top, some notecards, and a pen!
Décor
There are so many great DIY décor options that will liven up any party! Get some wooden letters that spell out your favorite team or "Win", and paint them your team colors. Buy some green paper, line it along the food table and paint white lines to resemble the field. You can also buy plates, napkins, and cups all the color of you team's jerseys! The options are endless and your guests will appreciate your creativeness! Best of all, all items can be purchased from your local A.C. Moore or Dollar Store for cheap!
Desserts
Once your guests have filled up on your delicious appetizers, they will be ready for something sweet! These pumpkin cake sandwiches with creamy vanilla frosting will be a hit! Anything pumpkin flavored in the fall is a favorite, and they go along with the football party theme. To make the football shape use a muffin pan with egg-shaped wells, which you can get from your local grocery store.
Throwing a big bash? Get Party Host Helpers to serve your guests drinks, appetizers, and even set up your football themed décor!
Can We Help You?
Contact us today for a quote!