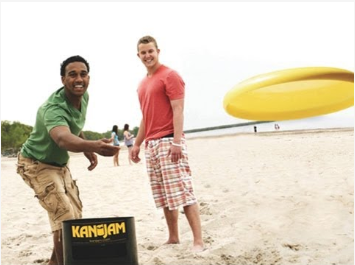 Looking to throw a party this summer? Spend a night enjoying the warm weather with your friends outside, under the stars, and playing games. It's a great way to get family and friends together without the fuss of throwing a big bash! Purchase everything you need from your local Walmart or order from Amazon and you're ready to go!

Here are some great ideas and tips for the perfect outdoor game night party courtesy of our Party Host Helpers HQ Intern, Sabrina!
This game can be played casually or very competitively, depending on your party guests. Each team of two guards their own can while the other side tries to throw the Frisbee in and score. Players might get rowdy as they try to run and block the Frisbee, but this game always ends up being a hit.
Recreate this classic summer game for your party! It can involve as many people as you want and requires a little bit of shouting and team effort, which keeps it interesting!
DIY PARTY TIP: Hang white or colored Christmas lights across the volleyball net to keep the area well-lit and to add more flair to the party. Another idea to brighten certain areas is to make your own candle holders out of tin cans. You can cut holes and shapes into them, and add a candle. The light reflects off the can and creates the perfect illumination for the atmosphere.
If regular Jenga doesn't get people excited, jumbo Jenga definitely will. Everyone will gather around to watch as the last few people desperately try to keep this giant, wobbling tower from falling.
DIY PARTY TIP: Make it extra fun by writing funny tasks on each wooden piece so when someone chooses one, they will have to follow the order. It can be drinking-oriented or something silly like truth or dare, depending on your guest list!
This is another traditional game that everyone loves. Depending on your party setting, you can use anything from soda bottles to wine bottles. You can even make your rings out of rope or glow sticks!
DIY PARTY TIP: Paint your bottles to match the theme of the night and place them into a cute wooden or woven box. It's easy to do and adds an extra touch your guests will appreciate!
This is a great pick for adults! Your guests will most likely get competitive over this, so expect some rivalry between the teams. Just make sure to put the dart board in a safe area where no one has to worry about being hit by fellow guests. You can put up a chalkboard nearby, so players can keep score or sign it!
Catchphrase Against Humanity
This one is definitely for our adult-only parties, but it is a must! It's an app that you can download for free that will keep everyone laughing all night. You will really get to know your guests with this guessing game, and will have a hard time putting it down! Although it is all on a phone, it is the perfect game for everyone to sit around a fire or in a circle outside after an afternoon of playing a few active games.
Make sure there is enough seating for all of your guests. These games might tire them out and at some point people will want to just hangout and chat. An easy and cheap way to do this is to set up hay bales with blankets over them. They are cute and comfortable anywhere you put them!
Create a fun, upbeat playlist so everyone will be in the mood to continue playing throughout the night!
Keep food and drinks simple. I love the idea of throwing some sodas, beer and wine in a cooler outside and letting guests help themselves. I also recommend setting up a food bar, whether it's a taco bar, hot dog bar, etc. It allows you, the host, to spend less time in the kitchen and more time playing the games!
Hire Party Host Helpers to help! We are nationwide and can provide you with party staff to take care of everything from setting up the games, to refreshing the drinks and taco bar so you can enjoy your guests!
Hire us for your summer party!