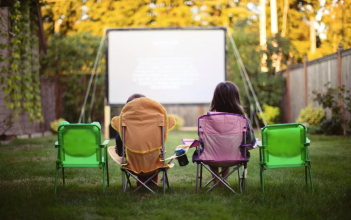 August has arrived, which means school will be back in session before we know it! Now is the perfect time to get your friends, family and kids together to enjoy the last little bit of summer we have left. We love the idea of throwing an outdoor movie night! Pick your favorite movie, hire a Party Host Helper and throw together a fun evening for all your loved ones with these simple tips from our Party Host Helpers South New Jersey Regional Director, Lauren.
Setup Outside – Summer days can be warm, but they are gorgeous once the sun has gone down. I have my Party Host Helper setting up pillows, chairs and blankets in the grass for seating. I have a friend that has a projector and screen that I use whenever I throw movie nights. If you don't have one, there are places you can rent one or buy one from amazon for a reasonable price!
Popcorn Bar – There is no better treat to enjoy on movie night! Your Party Host Helper can set up a table with different types of popcorn like butter & salt, caramel corn, and plain. Your Helper can put out a few bowls of candy such as M&M's, mini KitKats, and chocolate covered pretzels. Get some fun popcorn boxes from the dollar store, and let everyone make their own creations!


Party Appetizers – In addition to the popcorn, make some easy appetizers for everyone to munch on before the movie begins. Your Party Host Helper can pass out mini hot dogs, pizza bites, mini quiches. If you want something a bit heavier for guests to eat, your Party Host Helper can prep burgers and chicken on the grill to keep it simple. Add a few bowls of toppings such as lettuce, tomato, roasted peppers, etc. for your guests to build their own sandwich!




Drinks – Your Party Host Helper can put out a cooler of options for both adults and kids! Throw some waters, soda, beer and wine in some ice and let your guests help themselves. I also love creating a fun cocktail for the adults to enjoy like a summer sangria or spiked iced tea! They're refreshing and easy to prepare ahead of time in batches!




Goodie Bags – Your Party Host Helper can help make something small for guests to take home with them at the end of the night or enjoy during the movie. I love the idea of putting together little bags of cookies, or mini desserts – they are a great treat to enjoy at the end of the night and your guests will appreciate your effort!


Hire Party Host Helpers! The most important tip of all is to hire our party staff to help with the setup, clean up, and everything in between! As the host, you should be able to enjoy the movie, and let us take care of refreshing the popcorn bar!




Can We Help You?
Send us your Party Details and we'll get back to you!