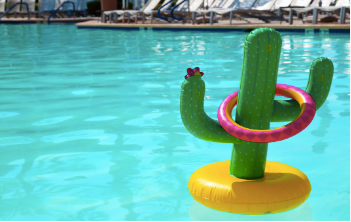 June has arrived, which means it's time to get started on your summer party planning! We love the idea of throwing a pool party in the heat of the summer – everyone gets the chance to cool off and have a great time! Party Host Helpers is here to ensure you throw the bash of the summer! Our Delaware Regional Director and party expert, Jen, has some great ways to make sure you and your guests have a great time.
Tiki Torches – Get festive! These double as extra light when it gets dark out, and bug repellents which can be very necessary in the summer time.
Pool floats – Have some fun pool floats ready for your guests to enjoy! You can find unique and fun ones from your local dollar store and place them around the pool before the party begins!
Drinks – I always recommend serving something cool and refreshing in the summer. I love having a white wine sangria option, and also a refreshing cucumber margarita! The best part about these recipes is that you can make them ahead of time in big batches before the party!
Food – Summer time is perfect for firing up the grill instead of heating up your house using the oven or stove! Throw some burgers and hot dogs on the grill, and have a table ready with condiments, plates, napkins, etc. Let your guests take their own and keep things simple! I also recommend having guests bring their favorite side dish – potato salad, pasta salad, or chips to add to the spread and save you some time in the kitchen!
Make sure to have some extra towels for guests in case they forgot to bring one. You can get a few extra from your local dollar store and place in a basket by the pool
Choose fun, family-friendly music to set a playful vibe – I love the Beach Boys and Jimmy Buffet
Use plastic "glasses" for drinks to avoid broken glass by the pool
Have extra sunscreen and bug spray in a bucket for your guests to use! No one wants to go home with a sunburn or bug bites, and people tend to forget those items when going to a party
If you like giving guests favors you could buy inexpensive flip flops or sunglasses and put them in a basket or bowl for people to help themselves
Hire Party Host Helpers: We want to make sure you as the host has the best time at your own party! Whether you need bartenders, servers, or just some party staff, we're here to help! Sit back, sip your margarita and let us take care of the details


Hire us for your summer party!