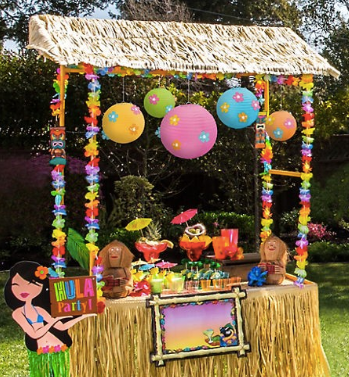 Now that July is here, summer is in full swing! Take advantage of the warm weather and longer days, and throw a themed summer party! Check out some great ideas and party tips from our Party Host Helper HQ Intern, Ellie, that will help you throw the bash of the summer!
Everyone loves a great themed party, and we have some fun ones you can easily throw together this summer!
We love the idea of a Tropical Luau Theme. It's super summery, and gets everyone in the mood to have a great time!
Pick up some grass skirts and other decor from your local Party City or Dollar Store! The skirts can be used around a table to create a fun Tiki Bar, or around a trash can to disguise it! Be sure to grab some lei's as they are perfect for decoration and costumes!
Don't forget tiki torches to light the night as soon as the sun goes down! They are a triple threat of adding décor to your theme, providing light to the party, and also repelling the bugs!
No party is complete without a cocktail to go along with your theme! This Tropical Punch is a great recipethat is also kid-friendly! If it's an adult-only party, add a splash of your favorite liquor and voila!
Another great theme is everything Watermelon! Watermelons are a crowd favorite in the summer, so why not make it the theme! YUM!!
Decorate with simple items such as balloons! Blow up pink and green balloons, and draw little seeds on the pink ones with a black sharpie. Perfectly summery and cheerful! Another fun idea is to scoop out the edible watermelon and use the rind as an adorable vase!
Keep food simple and whip up this delicious watermelon, cucumber salad! It's refreshing and a great addition to any main dish! Here is the recipe.
If you're feeling adventurous, try making a watermelon dessert! Easy options include dyeing cookie dough green and topping it with pink icing or making green cupcakes with pink frosting! Don't forget to add the chocolate chip "seeds"!

Finally, a must-have is a watermelon cocktail. We love this recipe because it's refreshing, delicious and will be a hit! Here is the recipe.
If you're looking for a less fuss theme, go with the classic BBQ!
Put together a hot dog bar! Along with the buns and dogs, set out bowls with various toppings such as relishes, pickles, grilled peppers and onions, coleslaw, and even fresh salsa! Your guests will love making their own and it's more hands-off for you, the host!
To complete the bar, you can even get red baskets and line them with checkered napkins to make it more fun!
For decor, consider going with a ballpark theme- after all, hot dogs are the most iconic food of baseball! Create a table to be the "Concession Stand" and fill it with bags of popcorn, peanuts, and cracker jack!
Music is very important and necessary to set the mood! I love the summer time playlists on Spotify because they are a mix of new and old hits that will keep the energy up-beat!
Have more ice than you think you'll need! Summer can be very hot, so make sure you are fully stocked on ice and water for your guests! Better to have more than not enough!
Have fun! Summer is about enjoying yourself. Don't sweat the little details, and enjoy the party you've put together for your loved ones!
Hire Party Host Helpers so you can sit back and enjoy your summer party! We can provide you with party staff to help with everything from bartending, to setup, cleanup and more!
Hire us for your summer party!