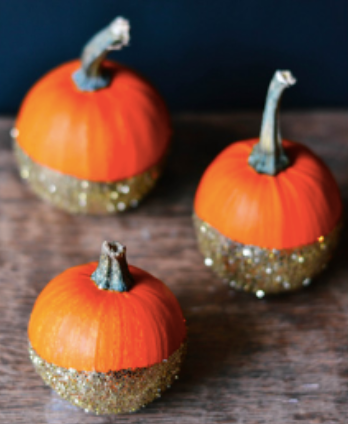 Fall is the best time to throw a party! School has started, the weather begins to cool down and there are so many fun festivities this time of year! Gather all your family and friends, and throw the party of the season with these themes and tips from our Summer HQ Intern, Sabrina!
Football season is finally here and now you will be ready when it's your turn to host for the big game. To help you out, we have listed some creative ways to make this gathering stand out.
Football Field Food Table: This is an easy and inexpensive way to make the decor a little more festive! Just get a green colored table cloth, and use white duct tape to tape the goal lines and edges. Then all you need is a white paint marker to draw the yard numbers and line. All items can be purchased from your local arts & crafts store!
Football Iced Coffee or Tea: People need hyping up for the game and you can help by serving some football iced coffee or teas. Put them all into mason jars and use thin white duct tape for the lace marks. So simple, but so cute!
Football Bingo: This game is sure to get people engaged in the game (even the little ones). You can make your own bingo cards or get them for free online! Each time one of the plays or commercials show up on screen, you mark off that square. All you have to do is print out enough for each guest, and get ready to play!
This party will be competitive, but delicious. Every guest must bring a dish of their own with pumpkin as the main ingredient. Everyone can walk around, mingle, and try each other's tasty treats. Throughout the party, guests will vote on their favorite dish! All you have to do is decide on a prize for the winner. While the guests are enjoying the pumpkin treats, whip up a few pumpkin martinis for your guests to enjoy!
Pumpkin Pie Martini
2 ounces Pumpkin Spice Vodka
1 ounces Dark Rum
½ ounces Half and Half
2 tbs Pumpkin Puree (canned or homemade)
1 ounces Maple Syrup
¼ tsp Pure Vanilla Extract
3 Ice Cubes
Rim:
Maple Syrup
1 Graham Cracker
½ tsp Cinnamon
1 tbs Granulated Sugar
Mason Jars for Voting: Since it is a competition, you need to make sure the voting jars are covered so that you don't see who or how many people have voted for one dish! Keep the Pumpkin theme going by spray painting mason jars orange, gold, or copper! Grab some spray paint (the more sparkles, the better) from your local arts and crafts store, and let the jars dry before the party. You can label each dish by writing it on the lid of each jar with a paint marker. These decorative jars can also be used as vases for flowers or silverware holders after the party!
Decorative Pumpkins: The pumpkin theme shouldn't stop at the food. You can make DIY pumpkin decor with just glitter or spray paint. All you need is a pumpkin, modge podge, glitter, and/or spray paint. To dip-dye your pumpkins, you simply glaze the area with modge podge, then dip the pumpkin into a bowl of glitter. If you want to spray paint them, have fun with different fall colors and just make sure to leave time for drying.
For adults only! Oktoberfest is a great party theme for this time of year, and a fun excuse to get your friends together in your very own backyard Biergarten.
Beer tasting table: This truly is a celebration of Germany's favorite drink of choice, beer! Set up tables around the perimeter of your backyard with a bunch of plastic beer mugs for your guests to use. You may supply the beer or ask everyone to bring a case of their favorite kind. Of course, any use of the blue and white from the flag will spruce up your party! Try adding festive tablecloths to all of your tables.
Buffet Style Meal: Set up a buffet of appetizers and dishes to keep it simple. You can serve pretzels, sausage (or the classic German bratwurst), sauerkraut, potato salads, etc. The more food, the more your guests will feel like they are really in Germany.
Cheddar-beer Fondue: This amazing beer infused dip will make everyone go crazy. Pair it with sliced sausage, bread, apples, or roasted veggies. It is quick and easy, all you have to do is melt it in a pot until it simmers. For the recipe, click here.
Invite your guests over for a Halloween cocktail party that will leave them screaming for more. You can make the night more fun with a costume contest or couples pumpkin carving contest. With spooky decorations and festive music, these tips will add extra spirit to the night.
Murder Mystery Game: This game is perfect for setting the mood. Everyone can participate, and it's a perfect way to introduce your guests to each other if they haven't already met.

Dry Ice Centerpieces: Pick a couple ceramic or metal bowls to place in the middle of all your tables. Fill them with room temperature water and place a couple pieces of dry ice in each bowl. This will create the perfect amount of creepy fog to pour out onto the tables throughout the party. Add more as needed. Dry ice is cheap, so you can buy it in bulk and keep it going all night long.
For any party you host this fall, make sure you hire Party Host Helpers party staff and bartenders to help make your party a success! They can take care of setting up the buffet tables at your Oktoberfest party, mixing your Pumpkin Pie Martinis or keeping score of the Football Bingo. Hire Party Host Helpers, sit back and enjoy the party!
Hire us for your fall party!