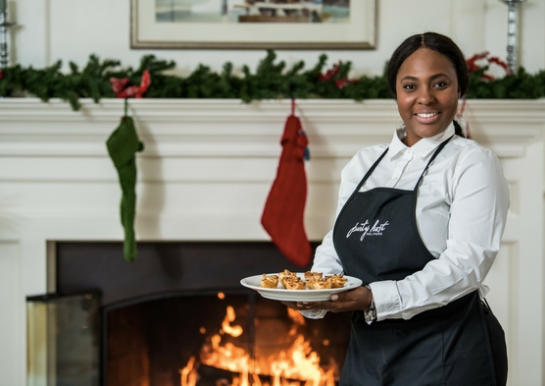 December has arrived, bringing the holiday party season along! If you're throwing a party this year, you're most likely in planning mode with a long list of items to take care of. Add "Hire a Party Host Helper" to that list! Hosting a party can be stressful, so let us help ease that stress! Don't worry about checking on the appetizers in the oven, or getting your guest another glass of bubbly, let Party Host Helpers do that for you! We can help you with the food prep, setup, serving, cleaning and more, so you can get out of the kitchen and mingle with your guests!
Sharon, one of our South New Jersey Party Host Helpers is excited for the holidays! She had a great time assisting a host this past Thanksgiving, and is ready for the holiday parties coming up! She shared a few of her favorite Party Host Helper tips that she is planning to incorporate this holiday season.
Talk to the Host Ahead of Time:

If possible, I call the Host/Hostess before the party to introduce myself and see if they need anything specific. That way I am fully prepared when I arrive on-site for the party, and know what to expect so I can jump right in!

Ask Questions:

Upon arrival, I introduce myself and go over what is needed of me throughout the party. I get the host to show me where the trash needs to go, where the extra trash bags and paper towels are located, and what to do with leftovers!

Be Prepared:

I always bring a bag of things that might be needed such as tape, a lighter, index cards, permanent marker, etc. That way I don't have to bother the host during the party if I need one of these items.

Keep Everything Clean:

I make sure the entire house always is kept clean throughout the party. Before I leave for the night, I double check that everything has been wiped down, and put away! I want it took look like the host never had a party!

Check in with Host:

I check in with the Host/Hostess periodically throughout the party to make sure they have what they need, and everything that needs to be done is taken care of.

Smile:

No matter what I am doing or what is going on, I always make sure to have a smile on my face!
"The holiday season is my favorite time of year! I am thankful I get to help hosts with their holiday parties, and hopefully ease their stress during this busy season!" – Sharon.
Book a Party Host Helper for your holiday party this year!