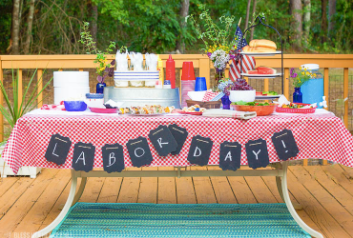 August has arrived, which means Labor Day is around the corner! Are you hosting the party this year? If you are, we have some great Labor Day Party tips and recipes from our Party Host Helpers Los Angeles Regional Director, Lynne, that will make sure your party is the ultimate end-of-summer bash.
What's a Labor Day party without some fun, patriotic decorations?
Patriotic Flowers: Get some of your favorite red and white flowers and add them to a blue mason jar. All you need to do is get some dark blue spray paint, and a few mason jars from your local arts and crafts store. Paint the inside of the jar(s), let dry and add your favorite flowers for a very patriotic center piece.
Keep it simple: Stick with red, white and blue paper plates, napkins and cups! It's less hassle for you as the host, and adds to the theme!
Flags, everywhere: Head to your local Dollar Store and stock up on flags! Add them to your flowers, tables, and give them to your guests! It's an inexpensive and fun way to add flair to party!
I think it's important to have beer, wine and water at all your parties, but I think it's great to add a few fun cocktails to the mix for your guests to enjoy!
Grapefruit Lavendita: This is delicious, refreshing and easy to put together with a few simple ingredients!
2 oz lavender infused tequila
1/2 oz Campari
3/4 oz fresh squeezed lime juice
6 oz IZZE Sparkling Grapefruit
To infuse tequila, add one tablespoon dried lavender flowers to 8 ounces of tequila and let sit for 1 hour. Strain and store tequila in a sealed jar or bottle.
Pineapple Rose Sangria: I personally love sangria in the summer, and this is my favorite recipe because it has Pineapple, my favorite fruit! Make a big batch of this recipe ahead of time.
1 bottle Rosé
2 cups 100% pineapple juice
1 pint raspberries
1 pint blackberries
1 cup pineapple chopped
Blueberry Lavender Vodka Spritzer: This is great for your Labor Day party because it's patriotic and delicious!
1 cup blueberries
2 cups vodka
3/4 cup blueberry lavender simple syrup
4 ounces lime juice
Soda water
Fresh lavender for garnish
For the blueberry lavender simple syrup:
1 cup water
1 cup sugar
1 cup blueberries
4 lavender sprigs (or 1 1/2 teaspoons dried food-grade lavender buds)
I love whipping up a mix of items for my summer parties! Here a few of my favorite recipes that always make my guests happy.
Pulled pork: Ditch the hamburgers and hot dogs this year, and pull out the crock pot to make these delicious pulled pork sandwiches! Easy, and will be a party hit this year! Click here for the recipe.
Bacon Cheddar Biscuits: I think these are a great side for any BBQ! I always make sure to double the recipe because these tend to go fast at any of my parties! Click here for the recipe.
Spicy Smoked Sweet Potato Salad: This salad is the perfect combination of spicy, smoky and sweet! I love serving it at parties, and it's always a crowd-pleaser! Click here for the recipe.
Blueberry Cobbler: I love this recipe, and it's the perfect dessert to prepare ahead of time. Whip this easy recipe up, add some ice cream, and enjoy! Click herefor the recipe.
Make things ahead of time: I always try to find recipes that I can make ahead of time so I don't spend as much time in the kitchen once guests arrive!
Games: I always like to have a few lawn games handy for guests to play! It's also great to have on hand if it's a family-friendly party!
Hire a party server! This is my best tip of all Let Party Host Helpers take care of set up, clean up, and more! Our party staff for hire can take care of the details so you can enjoy the party!
Hire us for your summer party!